One of the ways that we enable young people to engage redemptively is to equip them through the growth of knowledge, understanding and wisdom – a core component of what educational communities do.
There are two aspects deserving of consideration in the development of learning.  The first of these, progress, involves movement through a number of critical steps towards growth. Moving from the present level of understanding and competence to an improved level is the goal of educating, for example, the student can now jump 10 centimetres higher than last week.
The second of these, achievement, is the reaching of an objectively determined standard, for example, the student can jump 1.3 metres.
The model below visually demonstrates the movement and growth as action increases.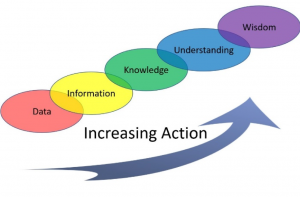 As we seek to be responsive to and honour God, we need to recognise that:
knowledge changes our thinking, and that students accumulate knowledge through guided learning, curiosity, research, and experience;
understanding means that we can discern and apply knowledge in different situations;
wisdom is being able to relate and apply our understanding.
As knowledge, understanding and wisdom develops, there is an inevitable increase in action in their application.
Developing a culture of appropriate rejoicing in God's goodness and giftings to our community is an important work of Christian schools, celebrating every step of progress and achievement as our young people develop their giftings in service to the Lord and His world.